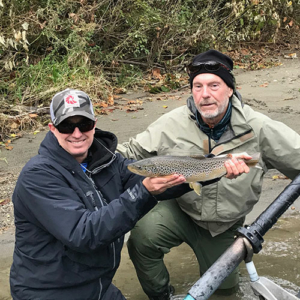 "When I hire a guide I look for someone who's a great fisherman, a hard worker, a patient teacher, and a good person with whom to spend a day on the water. I've fished with many guides, and know firsthand that these qualities don't always coincide, but Chris has them all, in spades, which is why I keep returning to the Deerfield area and bringing my fishing buddies. It's a great under the radar fishery and no one knows how to fish it better than Chris."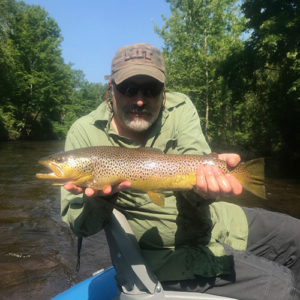 "I've been fishing with Chris on the Deerfield and nearby rivers, and in the salt, for at least five years.  He always puts us on the fish no matter the conditions which can be quite variable.  We have fished in downpours, floods and heatwaves.  He is also a good and very patient teacher of all the techniques involved in flyfishing.  And he is a great guy to spend a day on the water with. "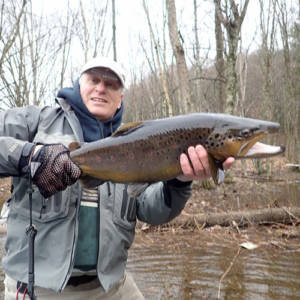 "Fishing with Chris Jackson is always fun. I try to get out to western MA or Vermont couple of times a year to experience the many rivers that are on Chris' radar… as well as his enthusiasm about fly fishing. On our first trip together a few years ago I drove home asking myself, "Why fly to Montana when the size and number of browns and rainbows – even a big tiger trout – that day more than equaled my best day out west." Chris keeps each day with him hopping – knowing when to swing a streamer, put out the nymph rod, work a wet fly, or pound up fish on a dry. "
I'm always on the rivers and have a keen eye for the nature of things.
The Deerfield River Fishing report for 1/25/2021: Fishing has been nothing short of fantastic over the last couple weeks on the D- every float trip has resulted in double [...]
The Deerfield River Fishing Report for 12/8/2020: Happy Holidays everyone! Looking for the perfect gift for the holidays? How about a gift certificate for a day on the water [...]
The Deerfield River Fly Fishing Report for 11/15/2020: Fishing over the last three weeks has been outstanding on the Deerfield-  most of the catch has been predominantly rainbows- however [...]
We work with the very best gear in fly fishing.